No matter your industry or your specific machining needs, MIDACO's pallet changers can significantly increase productivity, reduce spindle downtime, and reclaim wasted operator labor for your machine shop in Switzerland.
Increase Machining Center Productivity with MIDACO Pallet Systems for CNC Automation
For hundreds of companies in Switzerland and around the world, the MIDACO advantage is clear—including reported productivity increases of 90% and more, resulting in greater profits right away.
Industry-Leading Automatic CNC Pallet Changers for Switzerland's Machining Centers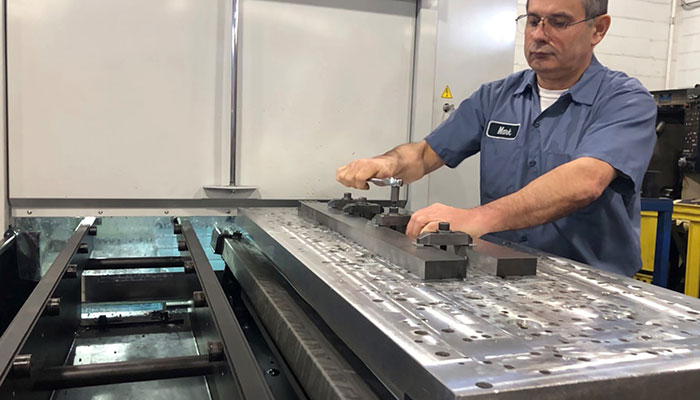 MIDACO has been a global leader in machine shop automation and efficiency solutions since 1969. Machining centers across Switzerland rely on our manual and automatic pallet changers to increase round-the-clock productivity through CNC automation. We manufacture advanced pallet changers that can be configured onto virtually any make, model, and size of vertical machining centers (VMC) or milling machine.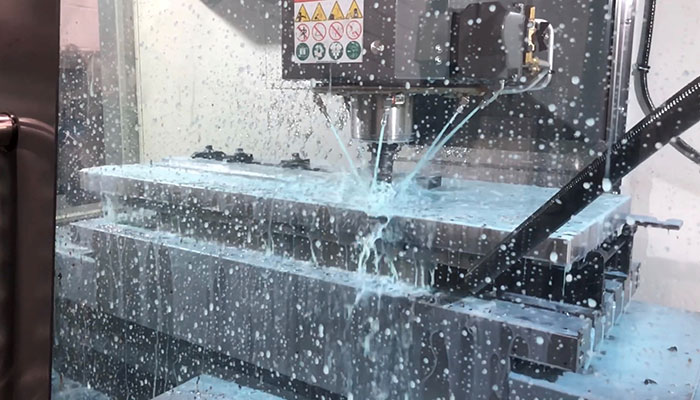 Just imagine how many hours of lost productivity could be reclaimed with a machine that doesn't have to sit idle while the operator changes parts, fixtures, or vices. With a MIDACO Automatic Pallet Changer installed, the operator can prepare the next pallet outside of the machining center while the spindle cutting. The next pallet will be ready to go as soon as the spindle is finished, resulting in continuous operation without costly downtime.
Suitable for small, mid-size, and large CNC vertical machining centers, MIDACO pallet changers boost efficiency for all kinds of jobs—including both individual and repeat parts. Short-run jobs are also made more efficient. Aluminum and cast-iron pallets significantly increase space on the machine table, helping to reduce tool changes and ensure the highest productivity per piece. Given the resulting lower cost per manhour, machining centers in Switzerland are able to compete with countries with lower labor costs.
Want to find out exactly how much your machining center stands to save through CNC automation? Explore how a MIDACO pallet system can increase productivity and profit with this convenient Payback Calculator.
Maximizing the productivity of CNC vertical machining centers is MIDACO's top priority. Our pallet systems bring spindle downtime to a minimum and profits and productivity to a maximum.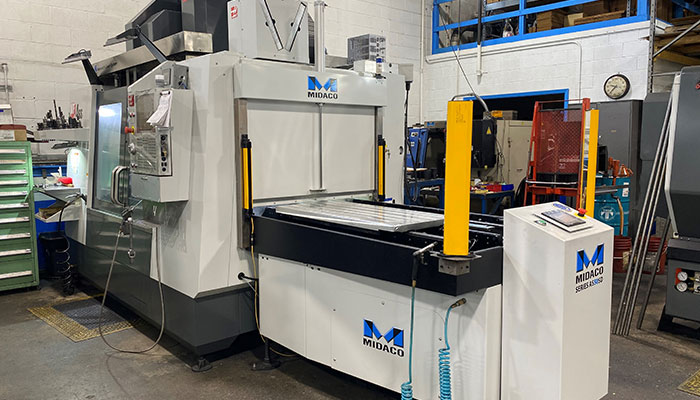 MIDACO's Automatic Pallet Changer for CNC automation is a game-changing technology for Swiss manufacturers of all industries with high-performance production facilities. Our pallet changers can be built onto brand-new equipment or integrated onto your existing VMC or milling machine. They can be installed on the right side or left side of your machine, or on both sides for even greater walk-away time and for mills that do not move in Y-axis. MIDACO's shuttle integrates directly with the control panel with a receiver mounted directly on the machine table.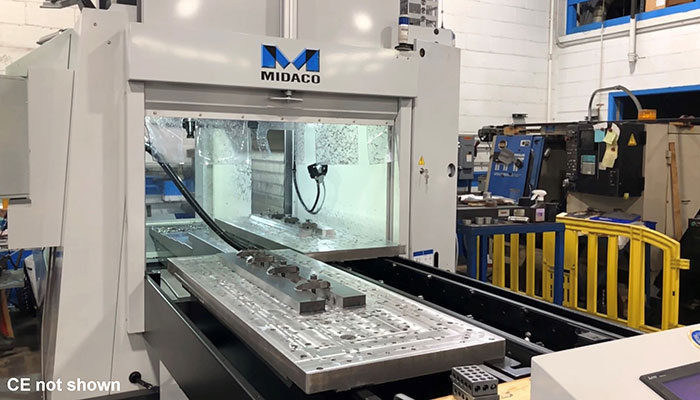 MIDACO pallet changers work for all kinds of machines, even large bridge mills with extremely tight tolerances. Our pallet systems are tested over 250.000+ pallet changes before being brought to market and provide machine tool automation with +/- 0,0025mm (+/- 0.0001") repeatability.
Whether single or dual, our automatic pallet changers work in the same way. While one pallet is being milled in the CNC machine, the other is being loaded by the operator outside of the machine center. Parts and fixtures no longer have to be mounted on the machine table while the spindle is idle and precious minutes tick away. Once the VMC is done with the pallet inside, it automatically switches the pallets. A servo-driven motor ensures pallet changes are done within seconds, drastically increasing machine center efficiency. The process repeats with minimal downtime per piece, as well as minimal operator labor and effort.
Even for large parts and tight tolerances, MIDACO pallet changers work quickly and significantly reduce spindle downtime. We have dual pallet changers suitable for CNC controlled milling machines that do not move in Y-axis.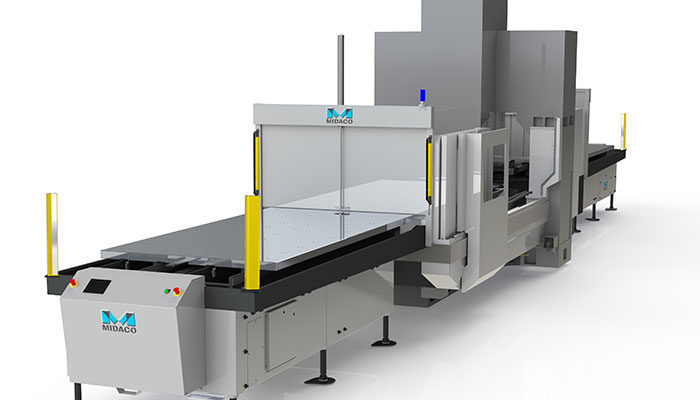 Industries that mill large parts with tight tolerances tend to face steep labor costs and reduced productivity due to the difficulty of changing large, heavy parts between jobs. Whether you produce machinery for aerospace, energy, automotive, military, power generation, or oil and gas, you're likely seeing machine downtime of up to 70% and more—especially when you consider the time taken for first article inspection, job interruptions, and crane loading and unloading. For each Vertical Bridge Mill or Double Column Machining Center in your machine center in Switzerland is running, this downtime means quantifiable revenue lost every minute.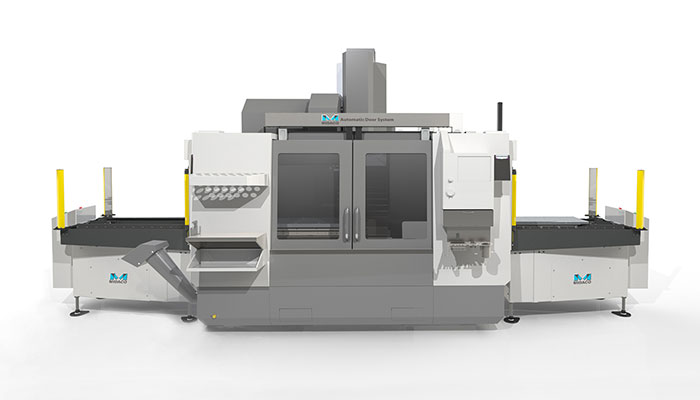 MIDACO offers single and dual shuttle pallet systems that allow the time-consuming part changing steps to be completed while the machine is working. Single pallet changers can be mounted left or right, while dual shuttle systems integrate a pallet shuttle on both sides of your VMC—providing a time-saving solution for large bridge mills and machining centers that do not move in Y-axis.
MIDACO Automatic Pallet Changers for CNC controlled milling machines are available as standard (one) shuttle systems or dual (two) shuttle systems. For both type of automatic pallet
changer, the pallets range in size from 558mm x 355mm (22" x 14") with a 227kg (500 lb) lift capacity up to 4.826mm x 1.829mm (190" x 72") with a 14.528kg (32.000 lb) lift capacity with parts evenly distributed on the pallet.
CE-Compliant Light Curtains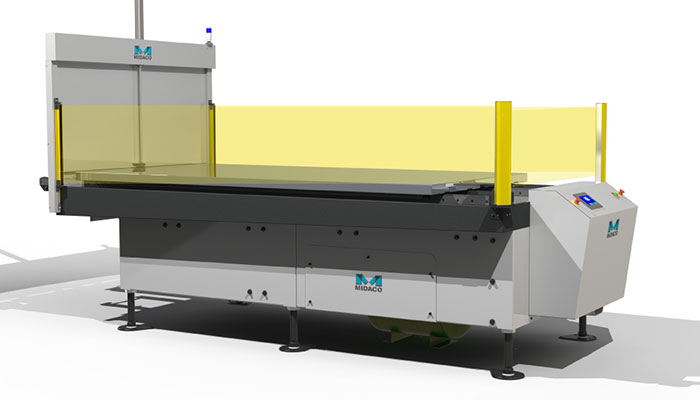 Beyond machining productivity, safety is critical for all MIDACO automatic pallet changers. These pallet systems exceed international standards with a CE-compliant Light Curtain that prevents a pallet change from occurring when the shuttle system is breached.
The three-sided shuttle guarding includes a light emitter, mirrors, and sensors to prevent operator injury as well as accidental parts damage. For machining centers with second, third, or even lights-out shifts, safety features like these are critical to maximizing productivity while maintaining a safe workplace.

Space-Saving Manual Pallet Changers for CNC Vertical Machining Centers
If your factory floor has little space or your machine has a smaller footprint, MIDACO also offers Manual Pallet Changer Systems. Unlike side-mounted automatic pallet changers, these machines have the shuttle mounted in front, where the operator manually changes pallets and sends them into the machine via the transfer bridge. (A transfer bridge may or may not be necessary depending on the position of the VMC unit's control panel.)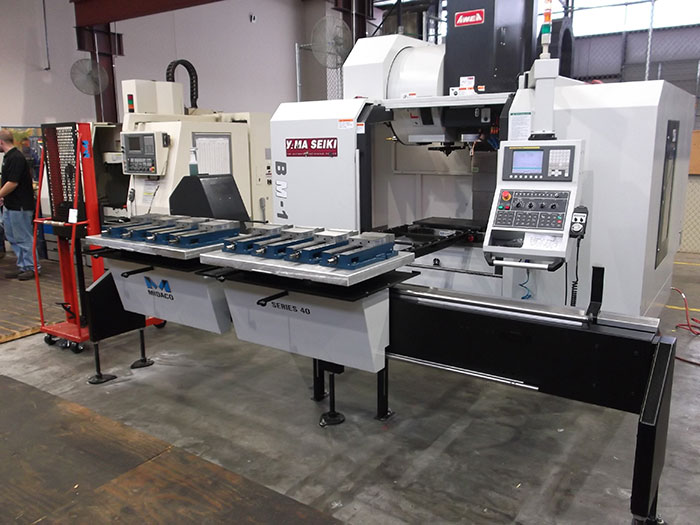 Smaller than the automatic pallet changers, these manual shuttle systems are available with pallet sizes ranging from 406mm x 355mm (16" x 14") up to 1.524mm x 635mm (60" x 25") with a weight capacity of up to 454kg (1000 lbs). Optional features offer an extended weight capacity of 908kg (2000 lbs).
For lighter-weight manufacturing that does not require shuttles, MIDACO offers smaller "Micro" lift-off pallet systems, in which the operator can manually switch pallets within seconds. This compact system works on horizontal, vertical, and special application machines, with 323,90mm x 266,70mm (12.75" x 10.5") cast aluminum pallets or 216mm (8.5") diameter round cast aluminum pallets.
Increase Productivity Further with MIDACO CNC Automation Accessories
Whether dual, single, automatic, or manual, MIDACO offers a pallet changer for CNC vertical machining centers of all makes, models, and industries. Companies around the world have seen increased productivity and revenue without suffering any loss of quality—giving them a clear edge over domestic and international competition.
Explore our other CNC automation accessories to see how we can customize your automatic pallet systems:

For more information about pallet changers for CNC machines