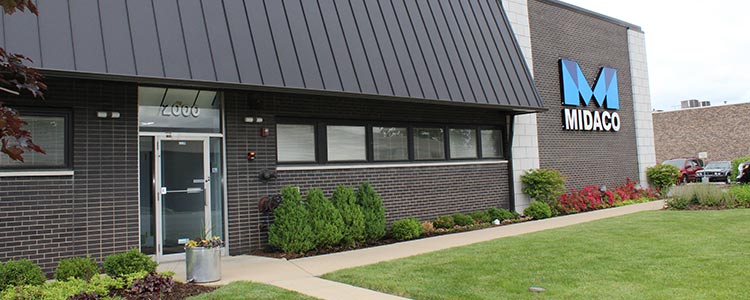 Established in 1969 and with corporate headquarters based out of Elk Grove Village, IL, Midaco is a leading full line manufacturer of pallet changers and many other efficient products aimed at saving manufacturing time, increasing productivity and output and making your company more profitable. In an increasingly competitive business market, Midaco's innovative products help to significantly increase the profits of our global customers. We continually seek to develop and create new products to stay ahead of the technology curve and provide the latest innovations to customers all over the world.
Our most popular products include automatic and manual pallet changers for CNC machining centers, machine tool accessories and safety products for bench and pedestal grinders. We strive for quality and excellence in all aspects of product planning, design, manufacturing and service to our customers while maintaining a leadership role within our industry. Our premier products and services have helped to distinguish Midaco as an advanced manufacturer with state-of-the-art equipment and product offerings.
Midaco has seen consistent growth over our decades in business and we strive to continue growing and expanding our product offerings and expertise. We offer a worldwide network of distributors while featuring quality products that back our standing as highly skilled and proficient industry professionals. Contact Midaco right away to discuss your upcoming manufacturing needs and speak with one of our friendly professionals. We can be contacted by telephone at (847) 558-6720 or via e-mail at info@midaco-corp.com, so don't hesitate to get in touch today.