The best way to increase the profits and productivity of your Austrian machining center is to get more value out of your existing machines—and MIDACO's Pallet Changers and other manufacturing automation systems do just that.
Increase Productivity and Profits with MIDACO Pallet Systems for CNC Automation
Through advanced CNC automation, we reduce job set-up time, spindle downtime, and wasted operator labor. By integrating MIDACO pallet systems into their existing vertical machining centers (VMC), our customers have reported productivity increases of 90% and more.
Automatic Pallet Changers for Machining Centers in Austria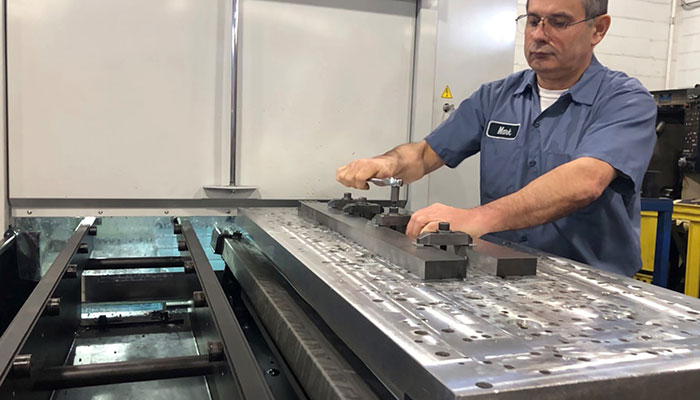 MIDACO's automatic pallet changers are engineered by the industry's top experts and can suit nearly any make, model, and size of machine. We've been a global leader and advanced manufacturer of machine shop technology, equipment, and accessories since 1969, giving us 50+ years of experience with CNC machine efficiency.
With a pallet changer for CNC machines, you can drastically increase the efficiency of your currently operating equipment in your Austrian machine center. With MIDACO's aluminum or cast-iron pallets, you'll have larger machine table space and can get more parts under the spindle during a cycle—resulting in fewer tool changes. Create dedicated pallets for repeat jobs and operators can stop spending valuable time changing vices or fixtures between cycles.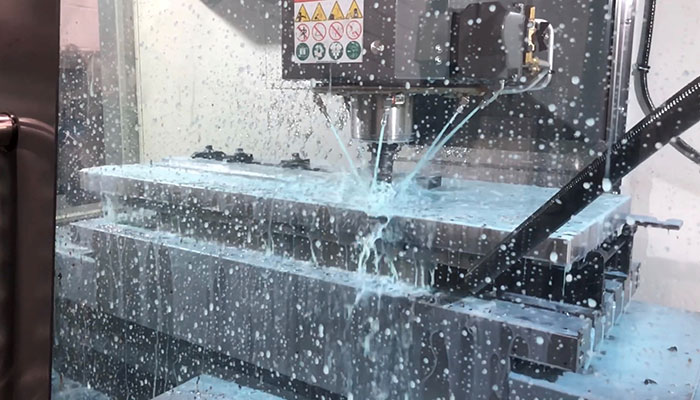 Moreover, the operator can change parts on one pallet outside of the VMC while the spindle is working on the other pallet. Adding an automatic pallet changer to vertical machining centers provides more continuous operation and reduces the cost per manhour per piece. You'll keep your spindle running and can complete with countries whose labor is cheaper than Austria.
To see just how much your machine center in Austria could save with a MIDACO pallet system, use our simple Payback Calculator.
Pallet Changers make milling more efficient without having to invest in new machines. Keep the spindle on your CNC Vertical Machining Centers running through all shifts.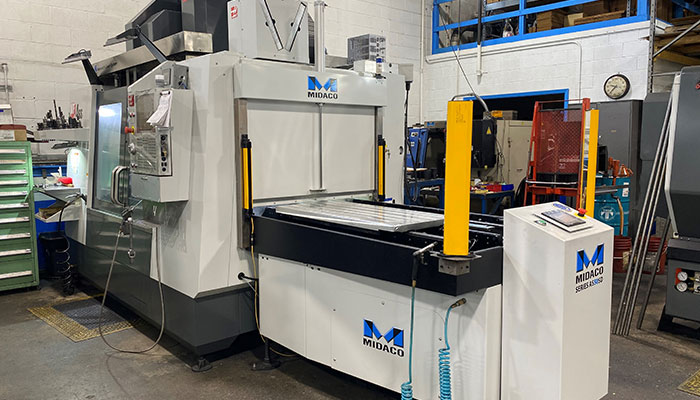 MIDACO's Automatic Pallet Changer systems are compatible with small, mid-size, and large VMCs of all makes and models. They can be easily added onto brand-new milling machine systems, or they can be integrated into an existing VMC to dramatically increase its productivity. Our automatic pallet changer systems come several different types, including:
Standard (one shuttle) pallet changers, installed on either the left or right side of the VMC
Dual (two shuttle) pallet changers, offering efficiency for large bridge mills and machines that do not move in the Y-axis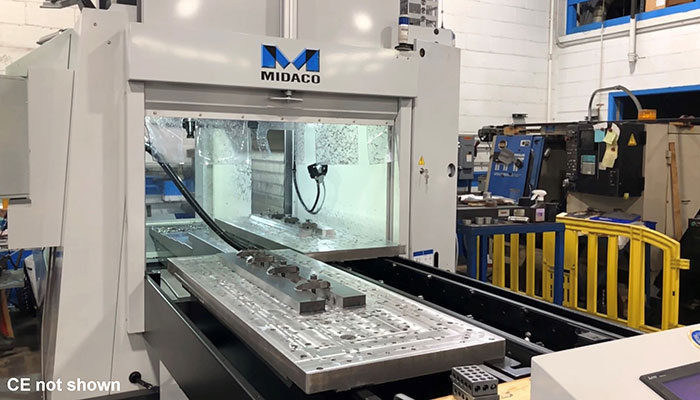 Both pallet changers have shuttles that are integrated with the VMC control panel and a receiver that is mounted directly to the machine table. This makes it easy for the operator to change parts outside of the machine while the spindle cuts.
While pallet A is being milled in the CNC machine, the machine operator is preparing pallet B—removing finished parts and loading for the next job. Because the loading is done off the machine table, there's no need to halt the spindle to complete changeovers. The pallet system automatically switches when the spindle is done, so the operator can move on to other tasks while the switch occurs. Labor cost is reduced, as the same operator can attend to more machines in the same amount of time.
Pallet changes are done within seconds on a typical vertical machining center (VMC) and within minutes on large bridge mills. MIDACO tests pallet systems across more than 250.000 pallet changes to ensure strength, resilience, and precise repeatability of +/- 0,0025mm (+/- 0.0001").
In addition to standard pallet changers, MIDACO dual pallet changers automate bridge mills and machining centers that do not move in Y-axis.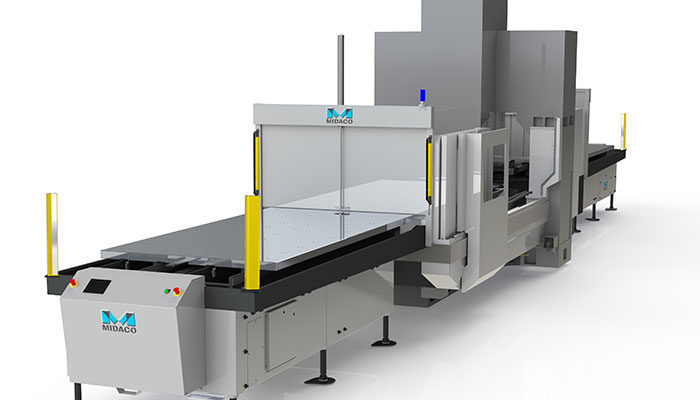 Minimized downtime is a goal for every machine shop, but those with especially large precision parts often spend more time with the spindle sitting idle. Between loading cranes, first article inspections, and job interruption tasks, large machines like a Vertical Bridge Mill or Double Column Machining Center can end up idle for up to 70% of the production day. These idle hours not only cost money in terms of labor but also force you to miss out on the full production potential of these costly machines.
MIDACO's Automatic Single/Dual Shuttle Pallet Systems are designed to work with such large machines, offering machine shop efficiency even for industries with oversized parts and extremely tight tolerances. Customers in oil and gas, automotive, energy, military, aerospace, and power generation have all saved time and money with a MIDACO pallet changer for CNC machines.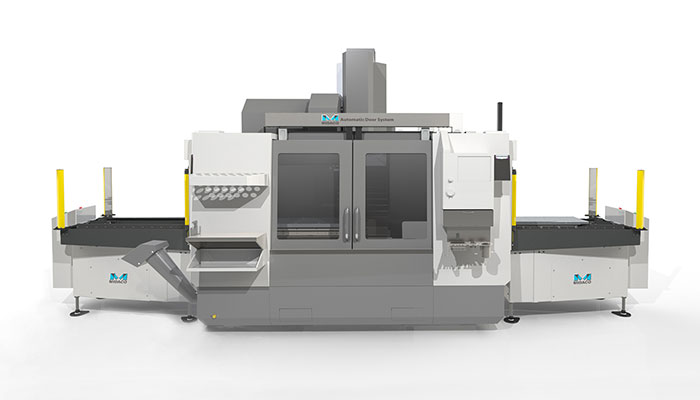 The single shuttle systems can be mounted left or right, while the dual shuttle systems offer a pallet shuttle on both sides of the bridge mill or large VMC that does not move in Y-axis. In both cases, the operator can complete the parts change process while the machine is cutting, which significantly increases machine shop efficiency without any loss of quality.
MIDACO single and dual pallet changers are available with pallet sizes from 558mm x 355mm (22" x 14") with a 227kg (500 lb) lift capacity up to 4.826mm x 1.829mm (190" x 72") with a 14.528kg (32,000 lb) lift capacity with parts evenly distributed on the pallet.  
Light Curtains That Exceed International Standards and CE Compliance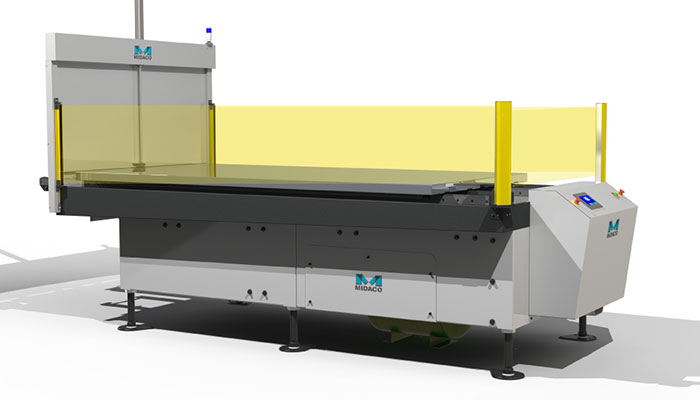 Safety is an integral part of a profitable and productive machine shop, and MIDACO Automatic Pallet Changers for machining centers are built for safe operation through all shifts. Each pallet system comes with a CE-compliant Light Curtain made from a three-sided shuttle guard of light emitter, mirrors, and sensors. If anything breaches the invisible light beam, the pallet change will not occur—protecting the machine operator as well as the parts from unwanted or accidental pallet changes.

Manual Pallet Changer Systems for CNC Vertical Machining Centers with Less Space
For machine shops that do not require the highest levels of automation or do not have the space for an automated pallet changer, we offer Manual Pallet Changer Systems with a smaller footprint. Whereas single and dual automatic pallet changers are mounted on the side of the VMC, a manual pallet changer is mounted in front, making use of a transfer bridge if necessary for the operator to manually move the pallets into the machine.
These smaller manual pallet changers can still make a significant difference in production floor efficiency and are available in: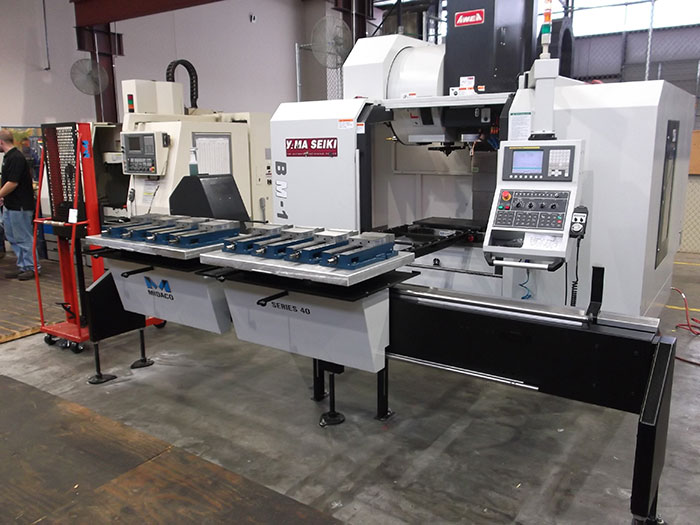 Pallet sizes ranging from 406mm x 355mm (16" x 14") up to 1.524mm x 635mm (60" x 25")
Weight capacities up to 454kg (1000 lb) and optional 908kg (2000 lb)
Even smaller pallet systems—the "Micro" lift-off system—are also available. These units are built without shuttles and come in very compact sizes: 323,90mm x 266,70mm (12.75" x 10.5") cast aluminum pallets or 216mm (8.5") diameter round cast aluminum pallets.
MIDACO CNC Automation Accessories for Greater Productivity
With a spindle that keeps running round the clock, your machine shop will see quantifiable improvements in productivity. Whether you need an automatic pallet changer or a micro pallet system, you'll be getting advanced CNC automation technology that has been tested and proven to perform.
For even greater advances in machine center efficiency, ask about our other CNC automation accessories:

For more information about pallet changers for CNC machines