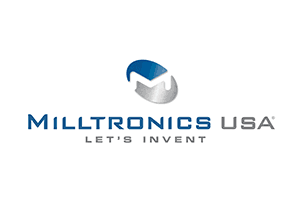 As a leading manufacturer, you know the importance of quality production at efficient speeds, and that is why you have chosen your Milltronics CNC machines. Milltronics milling tools are notable for their high speeds and reliable performance, so why not choose a pallet changer than can offer you the same? Since 1969, MIDACO has been a leader in providing innovative and quality solutions for efficient manufacturing for companies all around the world.
Our automatic pallet changer is user-friendly and can be retrofit to any new or existing Milltronics CNC machines by using two M-Functions. It is equipped with precision engineered features and quality controls to ensure it helps your facility achieve peak performance.
Milltronics Machining Center Pallet Changer
The PLC is fully integrated with your Milltronics milling tools, so your operator can easily load and unload pallets, inspect parts and set up new jobs all while an alternate pallet is in the machine. The PLC even allows your operator to program pallet acceleration and deceleration according to the weight of the fixture to optimize performance. Some of the other features and advantages include:
Reduce set up time on repeat jobs by dedicating tooling onto pallets
Up to 32,000 lb (14,528 kg) capacity depending on your specific application (with weight evenly distributed on the pallets)
Hardened and ground locating pins to assured +/- .0001" (.0025 mm) repeatability
Dual Air Blast blows air up through and across the contact pads for chip removal
Precision ground steel rails include hardened and ground bushing to assure accuracy and durability
Standard plain cast aluminum pallets offer extreme versatility
Learn more about the right pallet system for your Milltronics CNC machines – contact MIDACO today!
Download Brochure
Milltronics