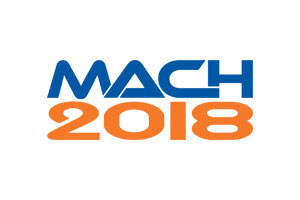 At MIDACO, our goal is to bring high-quality pallet changing systems to markets around the globe in order to improve production efficiency, maximize machine time, and reduce outsourcing of manufacturing jobs. Although we are a Chicago-based manufacturer with a reputation for delivering premier manual and automatic pallet changers across the country, we're excited to evolve our European expansion by being featured at MACH 2018!
As the premier engineering-based manufacturing event throughout the UK, MACH is held on April 9th-13th, 2018, and over 25,000 visitors will have the opportunity to explore advancing industrial technology. With our automatic door systems and quality CE pallet changers, MIDACO will be there to showcase some of the high-efficiency machinery that we've developed.
Visit MACH 2018 to Learn About Our Pallet Changing Systems
Around the world, MIDACO is known for our automatic and manual pallet changers, along with other high-quality products designed with streamlined, efficient technology. For MACH 2018, we will be partnering with HASS Automation Ltd. and Hyfore Workholding Ltd. to display some of our best-selling products to visitors over the five-day event.
If you're interested in stopping by to learn more about MIDACO and the products we offer, the event will be at the National Exhibition Centre (NEC) which is located in:
City: Birmingham
Country: England
Postal Code: B40 1NT
With the countless vendors and wealth of information to absorb at MACH 2018, going in with a plan is a wise idea, and you can head straight to the MIDACO pallet changing systems at:
HAAS Automation Ltd.: Stop by booth H19-570 to get a first-hand look at our automatic pallet changers, including the ADM-2SD model.
Hyfore Workholding Ltd.: Located at booth H20-185, Hyfore Workholding Ltd. will be showcasing one of our manual pallet changers.
Learn More About MACH 2018 and Our Innovative Pallet Changer Products
With an eye towards European expansion and a commitment to exceptional quality, MIDACO is the Chicago-based manufacturer you have been looking for to deliver products built for extreme productivity.
If you aren't able to head to the UK to check us out at MACH 2018, just give us a call or fill out our online form today. We'd be happy to answer any questions you have and get you started with a complimentary price estimate.