Companies in the United Kingdom and around the world have reported productivity increases of 90% and more with MIDACO pallet systems. Paired with AutoDoor Systems and our other innovative machine center solutions, down-time is a thing of the past.
Keep the Spindle Running in Your UK Machine Shop with Pallet Changers for CNC Automation
Spindle downtime is one of the largest drains on a machine shop's bottom line, reducing the total possible output per machine and wasting money on unnecessary operator labor per piece. To keep the spindle running and maximize the value of your current machines, MIDACO offers advanced Pallet Change Systems for Vertical Machining Centers (VMC) in the UK.
Automatic Pallet Changers for CNC Vertical Machining Centers (VMC)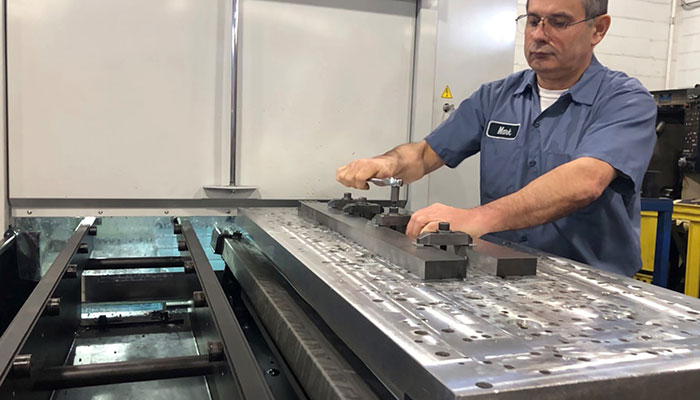 MIDACO is a worldwide leader in machining center efficiency and has been since 1969. Our advanced pallet changers, add-ons, and accessories have helped companies around the world reduce labor costs, extend spindle uptime, and keep their machine shops productive. Our pallet changer systems are designed to work with vertical machining centers of nearly any size, model, and manufacturer.
Consider how many machines you have running and how often the spindle has to stop for the operator to change parts on the machine table.
For every minute stopped, you're spending money on labor and missing out on the full production potential of the machines you've already invested in.
MIDACO pallet changers significantly increase productivity by eliminating such unnecessary spindle downtime.
Both series and repeat parts can be milled faster and more continuously, and with dedicated pallets for repeat jobs, you can easily interrupt jobs as necessary.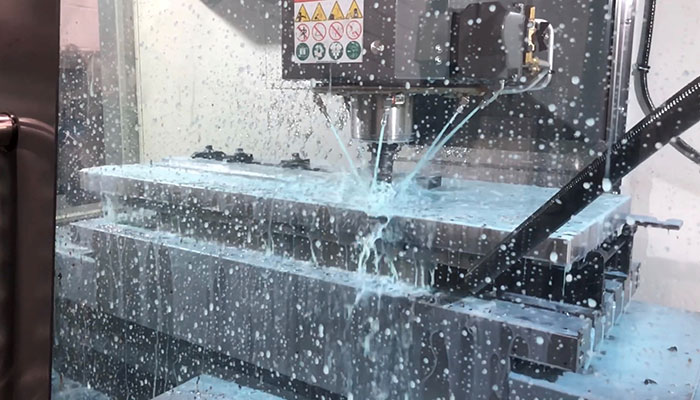 The larger real estate of a MIDACO pallet—available as either cast iron or aluminum—allows more parts to be under the spindle per cycle. That means fewer tool changes and less operator labor to do so.
By reducing labor costs, England's machining centers are able to compete with lower labor cost countries on the international market.
MIDACO Pallet Changers are a simple solution that integrate onto new or existing small, mid-size, or large CNC Vertical Machining Centers. Keep your spindle running!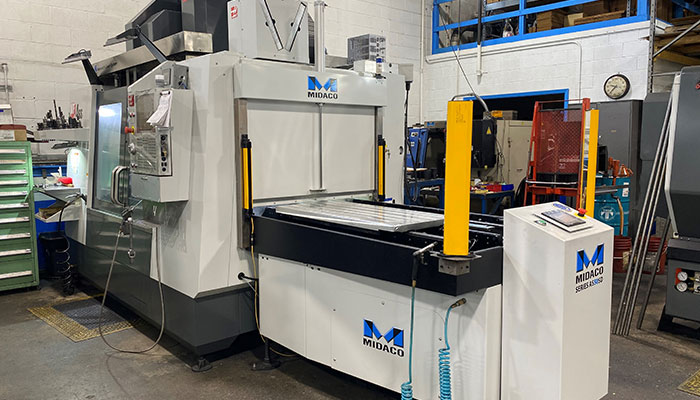 No matter the make or model of your Vertical Machining Center, MIDACO has an Automatic Pallet Changer that can be mounted on the right, left, or both sides as a Dual Pallet Changer System. The shuttle connects with the VMC control panel and the receiver is mounted to the machine table for seamless integration and easy operator control.
A MIDACO pallet system can bring your spindle downtime to nearly zero by giving your operator more space to change parts.
Instead of changing fixtures, vices, or parts directly on the milling machine table—creating costly pauses in production—the operator can prepare the next pallet while the spindle is cutting.
While pallet A is being milled inside, pallet B is being unloaded and switched to prep for the next cycle.
As soon as pallet A is done, the pallet changer system switches the pallets within seconds.
The operator can prepare the next pallet and then walk away to attend to other procedures, knowing that the system will switch pallets on its own.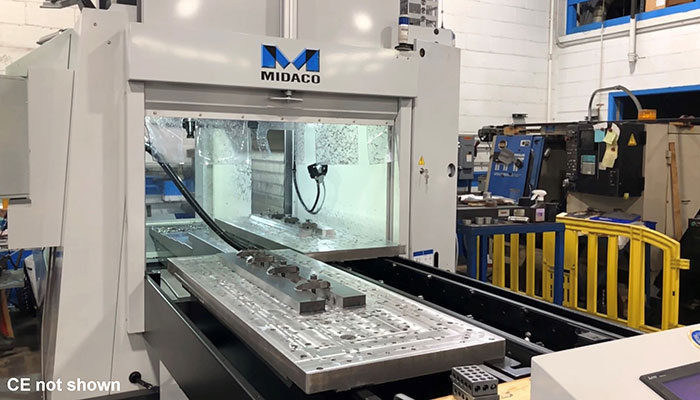 Even after hundreds of thousands of jobs, MIDACO pallet systems perform consistently without loss of quality. They are quality control tested across 250.000+ pallet changes before being released to market and meet standards of +/- 0,0025mm (+/- 0.0001") repeatability. 
Get greater productivity and efficiency for large bridge mills and CNC machines that do not move in Y-axis.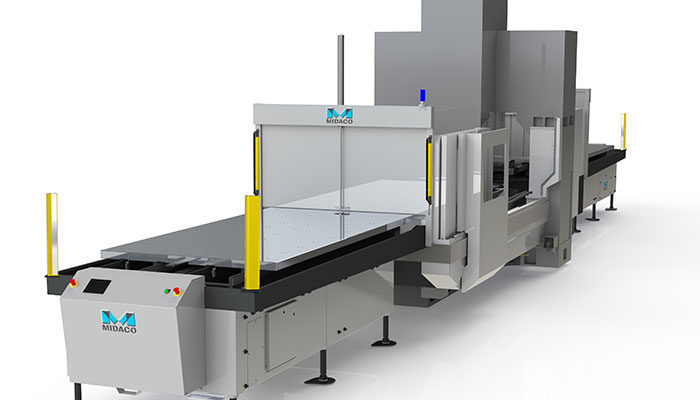 If you mill large precision parts like those used for the energy, aerospace, automotive, military, or oil and gas industries, then you recognize the costly effect of spindle downtime. Changing bulky, heavy parts takes time itself, but when combined with additional tasks—like loading/unloading cranes, performing first article inspection, and prioritizing job interruption tasks—a large Vertical Bridge Mill or Double Column Machining Center can sit idle upwards of 60% or even 70% of the time.
MIDACO's pallet changer systems minimize this wasteful downtime, even on bridge mills and large machining centers that do not move in Y-axis.
With an Automatic Single/Dual Shuttle Pallet Changer, the operator(s) can complete the time-consuming parts changing while the machine is actively working.
Over the course of all your shifts, this can result in hours saved every day, greatly increasing overall CNC machine center efficiency.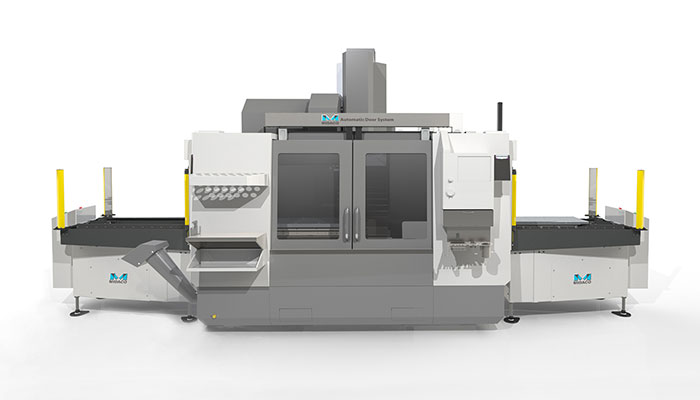 We offer CNC automatic pallet changers in standard (one) shuttle systems or dual (two) shuttle systems. Pallet sizes start as small as 558mm x 355mm (22" x 14") with a 227kg (500 lb) lift capacity and range up to 4.826mm x 1.829mm (190" x 72") with a 14.528kg (32,000 lb) lift capacity with parts evenly distributed on the pallet.
Light Curtain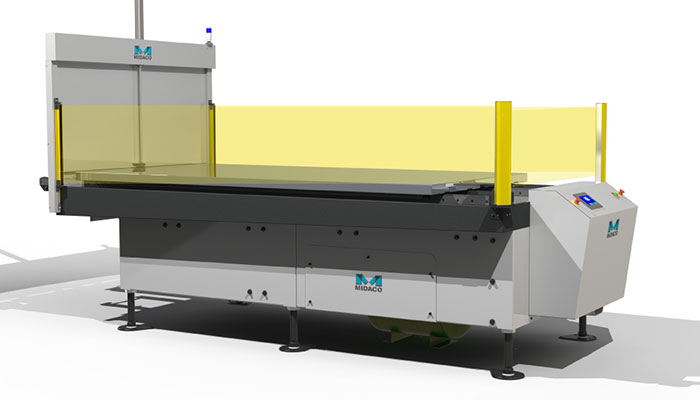 Choosing a MIDACO Automatic Pallet Changer for CNC machinery is an investment into safety as well as productivity. All Automatic Pallet Changers for machining centers exceed standards incorporating a Light Curtain with three-sided shuttle guarding via a light emitter, mirrors and sensors. A pallet change will not occur if the invisible light beam surrounding the shuttle system is breached. A combination of light emitter, sensors, and mirrors works to instantly stop the pallet changer, preventing workplace injury and damage to milled parts.

Manual Pallet Changers for Smaller and More Compact CNC Vertical Machining Centers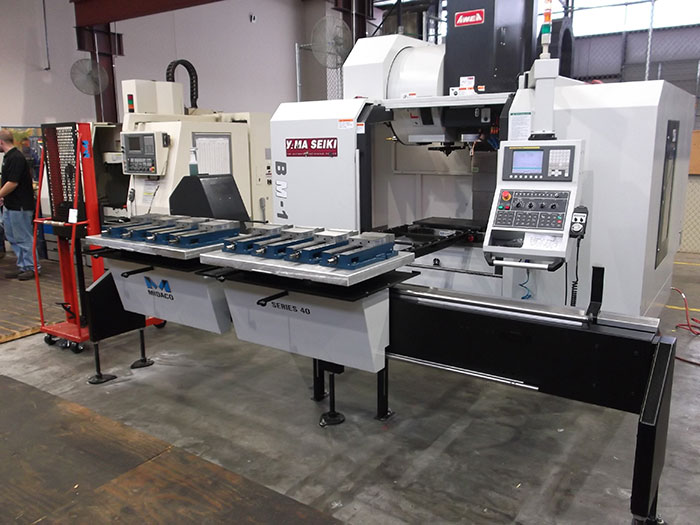 Not all production facilities require automated pallet changers, and some don't have space for the side-mounted equipment. In that case, MIDACO offers Manual Pallet Changer Systems in which the shuttle is mounted to the front, saving space and boosting machine center efficiency in smaller-footprint areas. In some cases, a transfer bridge can be integrated to assist with transfer of manually changed parts into the VMC machine center.
These manual pallet changers come in pallet sizes ranging from 406mm x 355mm (16" x 14") up to 1.524mm x 635mm (60" x 25") with a weight capacity up to 454kg (1000 lb).
As another option, we can configure additional parts to reach a weight capacity of 908kg (2000 lb).
If you need very small pallet systems without shuttles, MIDACO "Micro" lift-off pallet systems come with cast aluminum pallets as small as 323,90mm x 266,70mm (12.75" x 10.5") cast aluminum pallets or round cast aluminum pallets 216mm (8.5") in diameter.
MIDACO Accessories for Complete CNC Automation
With productivity increases of 70, 80, or even 90%, machining centers see immediate return on a MIDACO automatic pallet changer system. No matter which size or type is right for your VMCs, bridge mills, or large machining centers, you'll be receiving quality that's been tested over hundreds of thousands of jobs. Increased revenue is quantifiable from the moment the spindle starts cutting—making your center more competitive in an increasingly global market.

For more information about pallet changers for CNC machines
Complete our online contact form today