Get More Productivity Out of Your Machining Center with MIDACO Pallet Systems for CNC Automation
Companies in Germany and all around the world have significantly increased their productivity and profits with MIDACO's Pallet Change Systems for Vertical Machining Centers. In fact, MIDACO users have reported productivity increases of 90% and more—along with major reductions in job set-up time, wasted operator labor, and overall spindle downtime.
Automatic CNC Pallet Changers for All Makes and Models of Machining Centers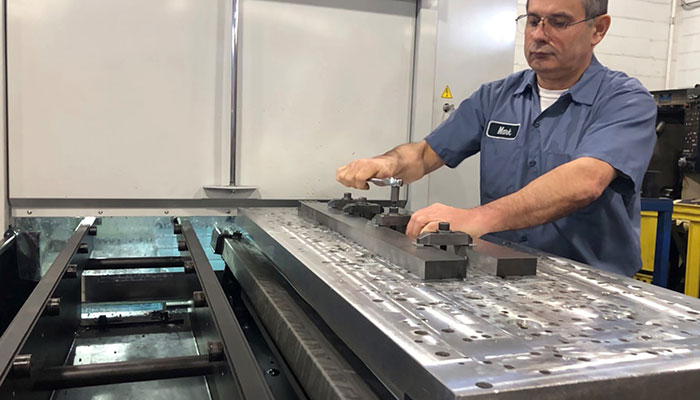 Founded in 1969, MIDACO has over 52 years of experience as an advanced manufacturer of machine shop time-saving solutions and machining center add-ons. Our pallet changer systems can accommodate vertical machining centers of nearly any size, model, and manufacturer to bring you greater productivity.
Change parts outside the machining center while the spindle is cutting.
Idle time on your machine can cost hours of revenue over one week. Imagine how much is lost in a month or a year in production idle time.
Pallet changers significantly increase the productivity of a machining center or milling machine. Not only for series parts, but also for individual parts and especially for repeat parts.
Having dedicated pallets for repeat jobs will eliminate the need to spend valuable time changing fixtures or vices on the machine table.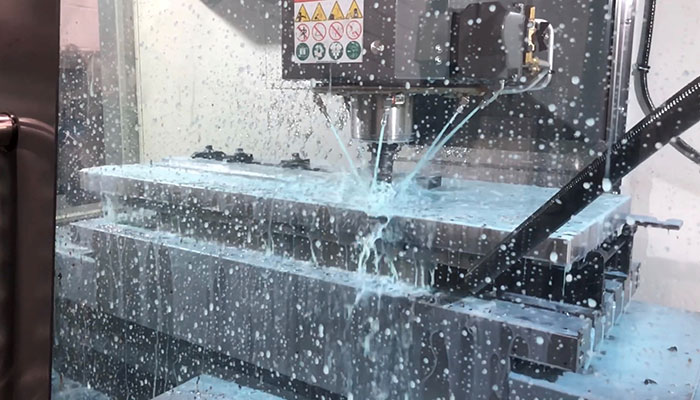 MIDACO aluminum or cast-iron pallets allow more parts to be under the spindle during a cycle and increase your machine table real estate, which allows for fewer tool changes. Adding an automatic pallet changer to vertical machining centers will reduce the cost per man hour per piece which helps manufacturers compete with lower cost labor countries.
Pallet Changers are a simple solution for Machining Center Automation in Germany to eliminate unnecessary spindle downtime on small, mid-size and large CNC Vertical Machining Centers.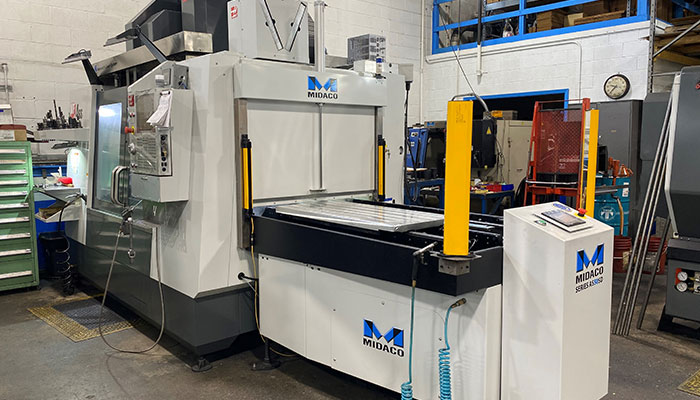 The Automatic Pallet Changer is the perfect partner to your Vertical Machining Center in your German machine shop– designed to be integrated with new equipment or with your existing milling machine. Installed on either the right or left side of the Vertical Machining Center, or both sides as a Dual Pallet Changer System, MIDACO's shuttle is integrated with the machine's control panel to automatically switch pallets onto a receiver mounted directly to the machine table.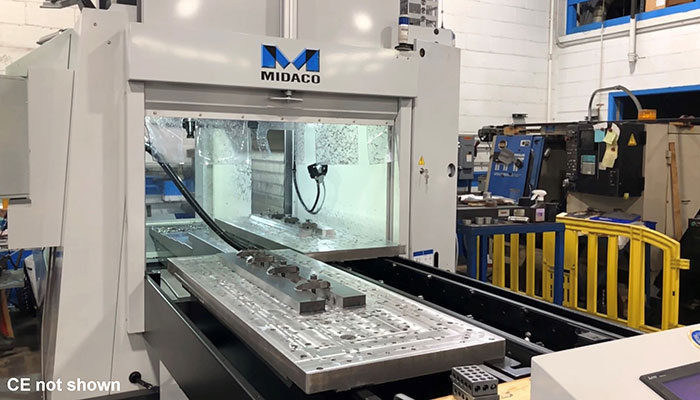 While pallet "A" is in the CNC machine with parts being milled, pallet "B" is outside with the operator removing finished parts and loading the pallet with new parts for the next operation.
This eliminates the need to mount parts and fixtures directly on the machine table while the machine sits idle.
Once the parts inside the VMC are complete, the pallets switch out automatically and the process repeats gaining machining center efficiency. The operator can attend to other tasks as the automatic pallet changer switches out the next batch of parts in seconds, virtually eliminating idle time.
The operator can then return to the milling machine to load the next batch of parts while the machining center continues cutting.
MIDACO pallet systems for machining centers have been quality control tested across 250.000+ pallet changes before being released to market and offer machine tool automation with +/- 0,0025mm (+/- 0.0001") repeatability.
Change Large Parts and Automate Machining Centers More Efficiently Through Pallet Changers for CNC Controlled Milling Machines which Do Not Move in Y-Axis and Bridge Mills.
Large precision parts machined to tight tolerances for the aerospace, energy, automotive, military, power generation, oil and gas industries and other manufacturing-related businesses in Germany can cause significant spindle downtime due to the process of heavy, large part change over.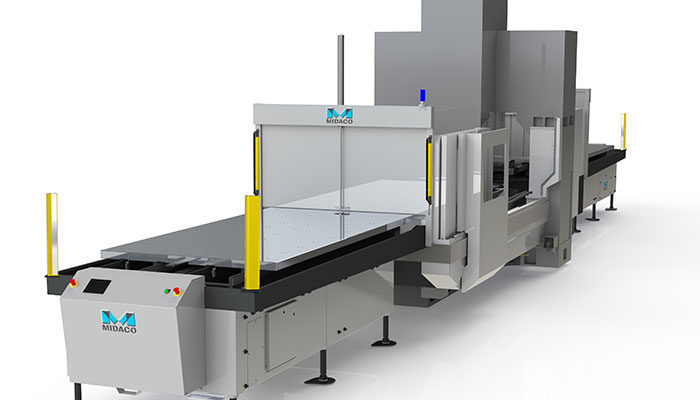 When combined with crane loading, first article inspection and job interruption tasks, the machining center can be idle for hours. Your large Vertical Bridge Mill or Double Column Machining Center can be idle up to 70% of the time.
MIDACO Automatic Single/Dual Shuttle Pallet Systems provide a pallet shuttle on both sides of the Vertical Machining Center as a solution for large bridge mills and machining centers which do not move in Y-axis.
This allows the time-consuming part change process to be carried out while the machine is cutting, increasing efficiency though the pallet changer.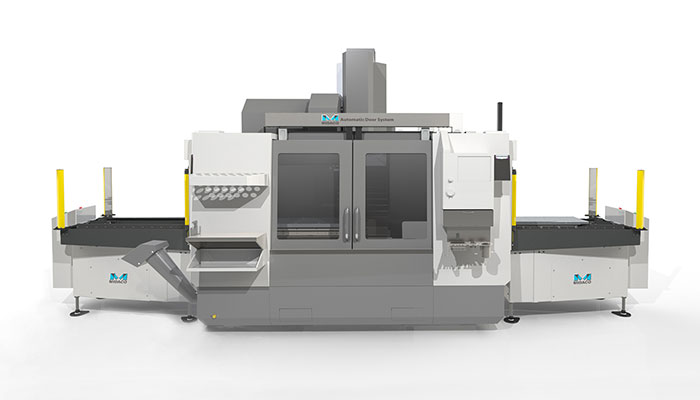 Automatic Pallet Changers for CNC controlled milling machines are available as standard (one) shuttle systems or dual (two) shuttle systems with pallets ranging in sizes from 558mm x 355mm (22" x 14") with a 227kg (500 lb) lift capacity up to 4.826mm x 1.829mm (190" x 72") with a 14.528kg (32,000 lb) lift capacity with parts evenly distributed on the pallet.
Light Curtain in German Machine Centers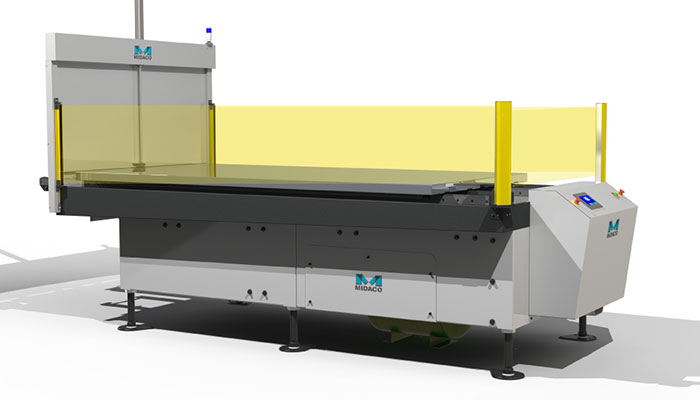 All Automatic Pallet Changers for machining centers exceed standards incorporating a Light Curtain with three-sided shuttle guarding via a light emitter, mirrors and sensors. A pallet change will not occur if the invisible light beam surrounding the shuttle system is breached.

Manual Pallet Changer Systems for Space Saving Footprints and Smaller CNC Vertical Machining Centers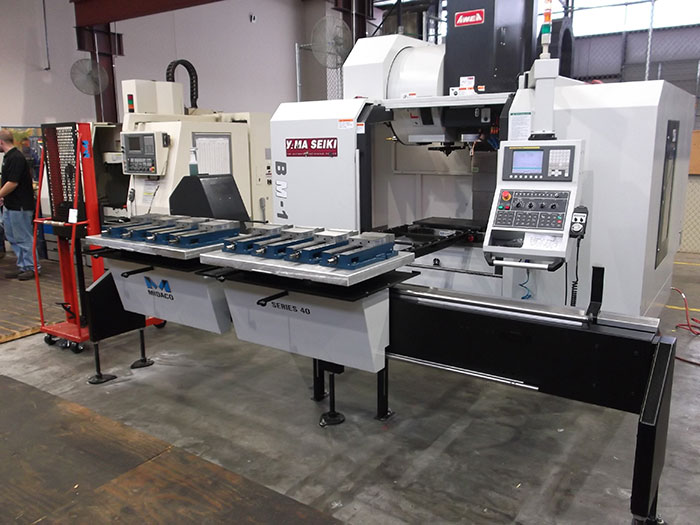 MIDACO also offers Manual Pallet Changer Systems with a shuttle mounted in front of the vertical machining center as a space saving solution for a smaller footprint. The operator manually transfers pallets along the shuttle and transfer bridge (if required) into the machine.
These manually operated shuttle systems are available in pallet sizes ranging from 406mm x 355mm (16" x 14") up to 1.524mm x 635mm (60" x 25") with a weight capacity up to 454kg (1000 lb) and optional 908kg (2000 lb).
Smaller manual "Micro" lift-off pallet systems without shuttles are also available with 323,90mm x 266,70mm (12.75" x 10.5") cast aluminum pallets or 216mm (8.5") diameter round cast aluminum pallets.
MIDACO CNC Automation Accessories for Your Machining Centers
Whichever type of MIDACO pallet changer for CNC vertical machining centers in Germany is best for your individual machining centers, you can be confident that you are receiveing advanced technology that is proven to perform. Benefits of MIDACO CNC automation solutions are easily quantifiable in terms of productivity and increased revenue. Eliminating downtime means increased output-and an edge over the competition. Manufacturing facilities around the world have gained efficiency through pallet changers and a variety of other CNC accessories.

For more information about pallet changers for CNC machines
Complete our online contact form today