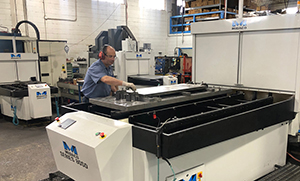 When combined with part loading, first article inspection and emergency job interruption tasks, experts estimate that today's national average machining center can run as low as 30% of the time and its spindle sits idle up to 70% of the time. However, at a shop rate of $100.00 per hour even a minimal 20 minutes per hour down time can add up to over $69,000.00 of lost profit per year (over $5,700.00 per month), per each machine owned.
Incorporating a MIDACO Pallet Changer System will immediately increase spindle utilization with the ability to load additional parts OUTSIDE of your machine WHILE its cutting. Exchange pallets in seconds on a VMC or just minutes on a large Bridge Mill and machines which do not move in Y-Axis. MIDACO pallet changers and CNC automation accessories are the solution to eliminating unnecessary spindle downtime and rescuing lost profit.
Machine Shop Efficiency
Efficiency is key when you're running a machining shop and using the latest in time-saving VMC technology is essential to get the highest payback from your production line. With a manual or automatic pallet changer from Midaco Corporation, you can save time and money while increasing the efficiency of any size shop.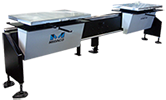 Midaco offers Manual Pallet Changer Systems from a cost-effective Micro Pallet 12.75" x 10.5" (323.9mm x 266.7mm) or front loading 2-pallet manual shuttle systems starting at 16" x 14" (406.4mm x 355.6mm) up to 60" x 25" (1524mm x 635mm) with a 2000 lb (908kg) capacity.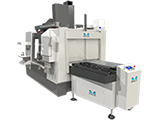 Increase walk-away time with Automatic Pallet Changer Systems offering pallet sizes starting at 22" x 16" (558.8mm x 355.6mm) and a 500 lb (227 kg) capacity for vertical mills and machines which do not move in Y-axis up to our larger automatic systems that can handle loads up to 32,000 pounds (14,528 kg) and have pallets up to 190" x 72" (4826mm x 1829mm) for Bridge Mills.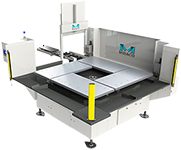 For quadruple the walk-away time, Midaco has developed an Automatic Rotary Pallet Changer System with FOUR Pallets, up to 50" x 24" (1270mm x 609.6mm) each, all on ONE rotating shuttle ready and scheduled to feed your VMC for multiple hours of unattended machining. Conveniently load parts with a robot or crane without any overhead obstruction.
See How Much You Can Save Each Year
When making an investment in increasing your production efficiency, you need to know exactly how much money you could be saving each year to ensure you're making the ideal decision for your bottom line. With Midaco's Payback Calculator, we give you a simple way to get a clear idea of the impact one of our manual or automatic pallet changers can have on your business. Just enter these simple data points:
Amount of minutes the spindle is stopped while your operator unloads and loads work pieces
Number of loads you typically handle in one hour
Hours per day that your machine is in operation
Number of days each year that your machine is being used
Hourly rate of your shop
Give Us a Call with Additional Questions
At Midaco Corporation, we are dedicated to helping shops around the world increase their bottom line through our high-quality pallet changers and other machine tool and CNC automation solutions such as AutoDoor Systems, Robot Access Doors, Trunnion Systems for 4th axis machining on VMCs, Multi-Pallet Changers for 5-Axis mills, Industrial CNC Vacuums, CNC Chip Fans and Grinder-Guards and Grit-Grabber Dust Collectors for bench and pedestal grinders and buffers. Find out more about how we can help you save time and money during production.
For more information