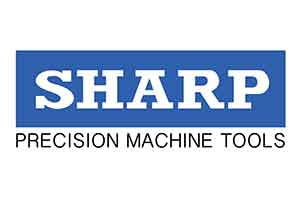 In your manufacturing facility, how much time is lost between jobs due to the need for manual part changeover? How many times do your Sharp vertical machine center operators have to stop the spindle to change workpieces or set up repeat jobs?
At Midaco, we believe that even a single minute wasted is too many.
If your most pressing problem is lost productivity from excessively time-consuming part changes, the solution is clear: Midaco's top-of-the-line, Sharp-compatible pallet changers. These advanced VMC add-ons reduce common inefficiencies to keep your production line operating at max capacity—ultimately boosting your company's profits and its bottom line!
Why Invest in a VMC Pallet Changer Add on From Midaco?
If you already have a state-of-the-art vertical machine center from Sharp, you might be wondering whether an automatic Pallet Changer, AutoDoor System or Trunnion System would really make that big of a difference.
And the answer is definitely yes! With a Midaco pallet changer retrofitted onto your Sharp vertical machining center, you'll get a more streamlined production process that:
Keeps the spindle running more continuously
Increases total output and production
Lowers overhead costs
Makes your production more profitable
Operating or expanding production overseas? We even offer optional CE enclosures and CE light curtains for automatic pallet changers that need to meet international standards.
Faster, More Efficient Sharp Vertical Machining Centers
The many advantages of a Midaco pallet changer come as a result of careful engineering and thorough product testing. All of our Sharp pallet changers are put through 250,000 pallet changes to ensure consistent performance over the long term.
Thanks to this meticulous testing protocol, you can feel confident in every advanced feature we offer:
Interchangeable pallets for multi-machine compatibility
Dedicated tooling that makes repeat jobs faster
Exterior part loading WHILE the machine is cutting
Capacities as high as 32,000 lbs (14,528 kg) with even weight distribution
Hardened ground pins to provide repeatability within +/- .0001" (.0025 mm
Easy chip removal via Dual Air Blast at each contact pad
Emergency job interruption functions
From technology to aerospace to oil and gas, the full spectrum of the manufacturing industry has seen major productivity boosts from Midaco's Sharp pallet changers.
Don't let your business fall behind—contact us today to find the perfect vertical machine center add on for you! Call now or fill out our online form to request more detailed information on any pallet changer.
Sharp