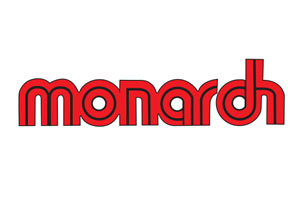 From aerospace to energy to medical manufacturing, Monarch machining centers are highly appreciated across numerous industries for their speed, efficiency, and precision. Since you've already invested in such a high-quality vertical machine center, why not maximize that investment with an efficiency-boosting automatic pallet changer from Midaco?
Let us tell you—our Monarch pallet changers are a one-time investment that pays serious long-term dividends.
By eliminating the hassle and machine idle time of manually loading and unloading parts directly on the machine table, our automatic pallet changers significantly reduce manufacturing downtime and keep the spindle going longer. As a result, you'll be able to produce more output in the same amount of time, using the same number of machines. And every second of downtime saved is money in the bank!
Midaco's User-Friendly VMC Pallet Changer Add On
At Midaco, we understand that every manufacturing facility faces different needs, and we're pleased to manufacture a vertical machine center add on for every use case. High-volume, short-run, small-batch, JIT…we can help you choose the right Monarch pallet changer for any size and style of production.
For your convenience, we manufacture both manual and automatic pallet changers, including those with optional CE enclosures to comply with international regulations, AutoDoor Systems and Trunnion Systems. Whatever your machining center requires, we're sure to have an innovative pallet changer for you!
Cutting-Edge Upgrades to Your Monarch Vertical Machining Centers
All of Midaco's pallet changers are engineered to withstand challenging manufacturing environments without affecting precision or quality. We've tested every Monarch vertical machine center add on over more than 250,000 pallet changes to prove that our products are market-ready and truly value-adding.
Your automatic pallet changer will be equipped with premium features that include:
Advanced yet user-friendly Mitsubishi controls
Load capacities of up to 32,000 lbs (14,528 kg)
Quick pallet exchanges with +/- .0001" (.0025 mm) repeatability
Exterior loading points for oversized and/or heavy workpieces
Precision ground steel rails with hardened and steel bushing
Safeguards for emergency job interruption
Pallets that can be used across multiple VMCs and departments
Achieving peak production doesn't necessarily require a total process overhaul or a complete equipment replacement. Instead, invest in a Monarch pallet changer from Midaco—a worldwide leader in manufacturing efficiency since 1969.
Just like our user-friendly pallet changers themselves, getting started is easy! Connect with a vertical machine center specialist – call or fill out our online form now.
Monarch