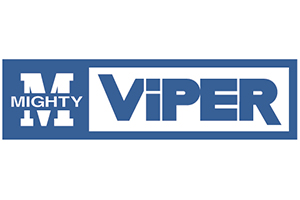 Have you invested in a Mighty Viper vertical machine center? MIDACO can help you maximize production and increase profits with our quality Automatic Pallet Changers, AutoDoor Systems, Trunnion Systems and accessories. This vertical machine center add-on is a time-saving solution that will streamline your processes while also allowing operators to focus more on quality control.
Our pallet changers are easily integrated with any new or existing Mighty Viper machining center, and the user-friendly Mitsubishi controls allow operators to learn the system quickly, so your manufacturing facility can start improving output almost immediately.
Mighty Viper Machining Center Pallet Changer
A MIDACO pallet changer can be fully integrated with any CNC machine via two m-functions. Operators will be able to reduce set up time on repeat jobs by dedicating tooling onto pallets. Other impressive benefits include:
Heavy/large workpieces easily loaded outside the machine
Increase machine and operator productivity
Up to 32,000 lb (14,528 kg) capacity depending on your specific application (with weight evenly distributed on the pallets)
Fully integrated with the CNC control
Jobs can be easily interrupted for emergency
Pallets easily interchanged between machines or departments
Since 1969, MIDACO has been committed to providing superior solutions, so our products endure strict quality control standards, including being tested with more than 250,000 pallet changes before hitting the market. That means you'll enjoy long-lasting performance from your MIDACO machining center pallet changer.
Improve the Performance of Your Vertical Machining Centers
Staying competitive in an ever-changing global market can be difficult, but maximizing output and reducing downtime between jobs will help give you an edge over the competition. For more than 50 years, MIDACO has been an industry innovator, and we'll continue to bring improvements that will help our customers around the world get peak performance from Mighty Viper vertical machining centers.
Contact Us to Schedule an On-Site Consultation
One of our knowledgeable manufacturing solutions specialists will provide an on-site consultation to discuss how a MIDACO vertical machine center add-on can improve the performance of your Mighty Viper machining center. Call today, or fill out our online form now to request a consultation.
Mighty Viper