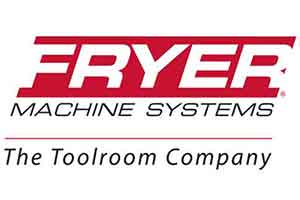 Fryer is a vertical machining center brand known for its ultra-high performance—but even the most advanced VMCs sometimes need a technological boost in order to deliver the levels of efficiency required to meet your company goals!
If you have a Fryer VMC that you'd like to take to the next level of productivity, Midaco offers Fryer-adaptable Pallet Changers, AutoDoor Systems and Trunnion Systems that will totally transform your production floor.
By integrating our manual, automatic, or CE-compliant automatic pallet changer technology, your VMC operators will no longer waste valuable time loading and unloading pallets. Because your Fryer vertical machine center will handle the bulk of the work on its own, you'll immediately benefit from:
Increased production and output
Less spindle downtime
Lower operating costs
Cutting-Edge Components of a Midaco VMC Pallet Changer Add On
Midaco has been an industry leader in manufacturing efficiency since 1969, and it's our mission to help companies of all sizes and industries improve their production processes in every way. All of our Fryer pallet changers have been specially engineered based on decades of research and development—ensuring precise, efficient performance across all types of production: small batch, high volume, short run, and JIT!
For consistently exceptional quality, each vertical machine center add on we offer comes with innovative features:
Exterior part loading WHILE the machine is cutting
Load capacities as high as 32,000 lbs (14,528 kg)
Repeatability within +/- .0001" (.0025 mm)
Fast pallet exchanges done within seconds
Convenient chip removal via Dual Air Blast at each contact pad
Single- and dual-pallet designs with up to 4-pallet capacity
Dedicated tooling to reduce set-up time for repeat jobs
Emergency job halting to help prevent workplace accidents
Meticulously Tested Pallet Changers for Fryer Vertical Machining Centers
At Midaco, we understand that even a few seconds of production delay can cost your company a lot of money—and we make sure that all of our Fryer pallet changers have been thoroughly tested to ensure maximum efficiency. In fact, every Midaco pallet changer undergoes 250,000 pallet changes before ever coming to market!
What's the bottom line? No matter which make or model of Fryer vertical machining center you have, your pallet changer will increase its output. Your newly efficient production line will be up and running almost immediately!
To find out more about our exclusive vertical machine center add on technology, call us right away. You can also fill out our online form to request more information today.
Fryer