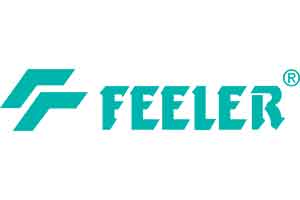 At the heart of almost any modern machine shop is a vertical machining center—but you don't necessarily have to stick to the limits a VMC has on its own! Midaco manufactures cutting-edge pallet changers for all makes and models of FFG Feeler machining centers to increase output.
Our innovative pallet changer technology will augment your cutting-edge manufacturing equipment, allowing you to boost productivity and profit through reduced spindle downtime. We offer Automatic Pallet Changer systems, Manual Pallet Changer Systems, AutoDoor Systems, Trunnion Systems and other accessories that can be installed or retrofitted on the vertical machine center of your choice.
With 250,000 pallet changes completed before ever going to market, Midaco's pallet changers are a smart, worry-free investment into your business!
Why Invest in a Machining Center Pallet Changer From Midaco?
MIDACO's FFG Feeler vertical machine center add on will be worth the investment to your business—Midaco is here to add value to your manufacturing process. For that reason, you can feel confident in our vertical machine center team!
Our knowledgeable representatives will only recommend a manual or automatic pallet changer that will work for your business and stand up to your manufacturing environment. Each of our FFG Feeler pallet changers has been made to:
Minimize spindle downtime
Keep production running at full capacity
Reduce human error and safety risk
Lower operating costs
Maximize production without compromising on precision quality!
Innovative Pallet Changers for FFG Feeler Vertical Machining Centers
Midaco's pallet changers have been designed, engineered, and tested to meet the productivity needs of any machine shop. We've also implemented some of the most advanced features in the industry:
Fast pallet exchanges within seconds
Load capacities as high as 32,000 lbs (14,528 kg)
Versatile pallets that can be interchanged easily
Hardened ground pins for repeatability within +/- .0001" (.0025 mm)
Dual Air Blast at each contact pad for easy chip removal
Emergency job interruption capabilities
Integrated with the CNC control
Single and dual pallet changers with up to 4-pallet capacity
Even a few minutes of wasted production are too many—so work with Midaco to fulfill your manufacturing potential with an FFG Feeler pallet changer. We'll match the top-tier quality of this brand with a well-chosen vertical machine center add on.
Ready to maximize production at minimal cost? Then call us and discuss your automatic pallet changer needs! You can also submit our simple online form to request more information and a free quote.
FFG Feeler